Anitex Larbrinca
Hall: Hall 1 Stand: 1G40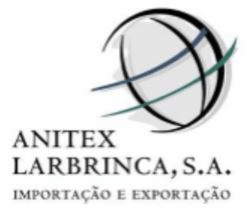 ANITEX-LARBRINCA exists since 1974 and currently has about 70 employees.
The goal of the company is the import and export of a wide range of products such as Toys, kitchenwares, Housewares, Decoration, Garden and beach articles, Christmas, Gifts, etc
The company has two showrooms. One is located in Lisbon and has about 1000m2, and one in Porto with 600m2. The total storage area between Lisbon and Oporto is more than 20000m2.
We continually have 12500 references in our showrooms and warehouse ready to deliver to our customers.
We have our own brands that enable customers to identify our unique company products. We have ANILAR for Household products, ANIBRINCA for Toys and DR for a range of more exclusive products.
We export to more than 45 countries regularly.