Say Goodbye to Plastic!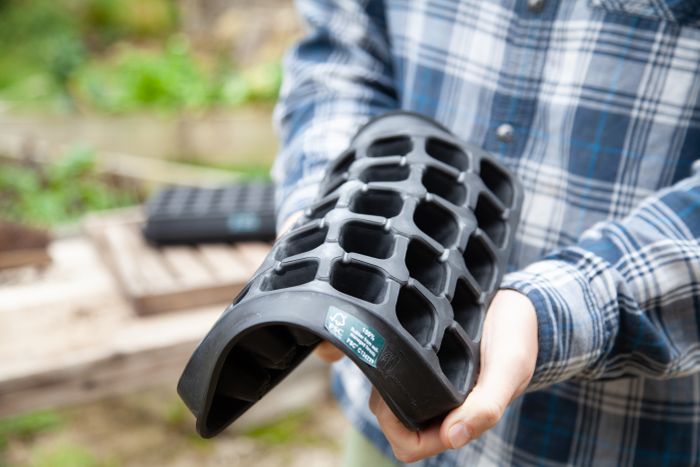 Plastic Free Gardening range now available at Wildlife World
Wildlife World again flexes its sustainable credentials with the Plastic Free Gardening range of Natural Rubber Seed Trays. Bringing ethically sourced, Fairly Traded, sustainable, long-lasting garden products to the market.
14th January 2022, Wildlife World, based in Chavenage, Nr Tetbury, Gloucestershire, provides another product that leads the way in Fairly Traded and a more sustainable marketplace. Plastic Free Gardening's range of seed trays and root trainers, made from natural FSC rubber and now exclusively available at Wildlife World. The Fairly Traded naturally sourced Plastic Free Gardening range comes in three varieties of the seed tray and one root trainer for every green-fingered gardener to enjoy year after year in their gardens.
Mark Pitman, Managing Director at Wildlife World, describes, "We've always had a strong sense of environmental responsibility here at Wildlife World, and it's great to be able to offer another range of Fair Trade natural products to our line up. Many of our customers are looking to protect and preserve the natural environment and the plants that live there, so we believe this new 100% Plastic Free Gardening range will be well received. Hopefully, other companies will follow suit, and we can start a trend towards a much more sustainable and biodiverse future."
Unlike the plastics industry, which is controlled by a few massive multinationals, natural rubber is an entirely sustainable product grown by small farmers or on plantations. Plastic Free Gardening sources only from suppliers whose plantations are certified not to replace natural forests. Due to the current meagre price of natural rubber, many rubber plantings are under threat from conversion to palm oil or beef production. So when you buy our seed trays, you ensure the survival of a valuable, natural resource.
Rubber trees are 'tapped' by small farmers or plantation workers, in theory providing an essential source of revenue. However, the price for natural rubber does not even cover the cost of productions. But because we are members of the Fair Rubber Association, we pay our primary suppliers a Fair Trade premium of EUR 0.50 kg/DRC (Dry Rubber Content) - at present, almost 40% above world market prices. This helps improve the working and living conditions of the primary producers and ensures environmentally friendly, sustainable production. Our primary source for natural rubber is also FSC certified.
Martin Kunz, the creator of the Plastic Free Gardening products, explains: "I was a keen gardener and environmentalist, " in west London. I spent all of my working life sourcing ethical, sustainable products worldwide, and this is my (semi) retirement project. Other people buy a Mercedes; I want to do this."
To find out more details or if you'd like to purchase our Plastic Free Gardening Range, don't hesitate to get in touch with your Wildlife World trade account manager, phone us on 01666 505333, or apply for an online trade account and order on our trade website www.wildlifeworldtrade.co.uk, or email our sales office at info@wildlifeworld.co.uk.
About Wildlife World
Wildlife World is Europe's leading designer and manufacturer of wildlife products, based in Tetbury, Gloucestershire. Their products cover a wide range, including; wildlife and bird feeders, nest boxes, beneficial insect houses and hotels, pollinator habitats, hedgehog houses, bat, frog and toad homes, birdbaths and sophisticated wildlife camera systems.
Conservation has been at the heart of their business since its inception in 1998, using recycled materials where possible and FSC certified timber. The UK based workshop where Wildlife World design and develop their unique products uses renewable energy to operate. More at www.wildlifeworld.co.uk
Categories
£0 - £19
Him
Her
Couples
The Family
Children
Pets
Garden & Outdoor