Meters M-OV-1-B Connect Pro Black Bluetooth Headphones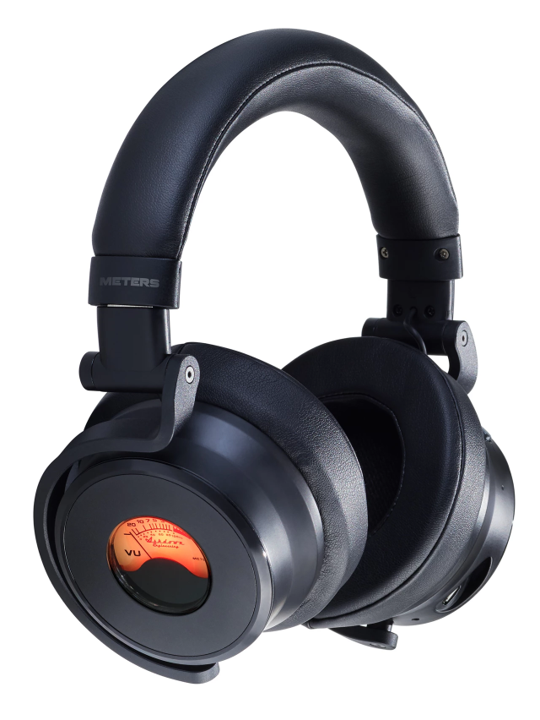 Ashdown OV-1-B Connect Pro Bluetooth Headphones - Black
Closed-back Over-ear Headphones with HD Bluetooth, VU Meters, and RGB Lights - Black
Sleek and Stylish Pro-quality Bluetooth Headphones
Are you looking for headphones that stand out from the crowd? If so, you'll want to pick up a pair of Ashdown OV-1-B Connect Pro Bluetooth Headphones. These closed-back, over-ear headphones have a sleek, modern design, with a VU meter nestled on the outside of each earcup for others to see how loud you're listening. Connect Pro headphones feature top-notch 50mm beryllium drivers, delivering deeper bass and crisper highs than other comparable Bluetooth headphones. Ashdown loaded these impressive headphones with the latest Bluetooth technology — you get up to 24 bits of high-definition audio, a "better than CD" sound quality that discerning audiophiles are sure to appreciate! These cans are also capable of 16 hours of continuous Bluetooth operation. So, whether you're jetting to the other side of the world or taking the subway across the city, you won't have to worry about your battery life. Finally, built-in buttons on the earcups let you control playback and answer calls with a quick tap. Don't delay — purchase your Ashdown OV-1-B Connect Pro Bluetooth Headphones today!
VU meters encourage you to listen responsibly
The most striking feature of the Ashdown Connect Pro is its pair of line-level VU meters. Aside from adding a dynamic and engaging design element, the VU meters let others around you see how loud your music is. If you're listening around your friends and they see the needle edging toward the red, they can let you know that your music is too loud. Here at Sweetwater, we want you to enjoy listening to music for years to come. That's why we're so excited about Ashdown's commitment to responsible listening.
The Connect app gives you total control
With the Connect app for iOS and Android, you can exact total control over your sound. Inside the app, there's a fully adjustable 5-band parametric EQ. There's also a helpful frequency response graph displayed at the top of the menu, showing how your headphones will react as you change the curve. Flip over to the VU Meter menu to select the color and brightness of your VU meters. The app will also push updates to your headphones — no wires required!
Ashdown OV-1-B Connect Pro Bluetooth Headphones Features:
Stylish Bluetooth headphones for everyday use
50mm beryllium drivers deliver crisp highs and strong bass
VU meters let others see how loud your music is
Updated with the newest Bluetooth technology to deliver 24-bit/HD audio with ease
Wireless connectivity eliminates annoying wires
5-band parametric EQ lets you dial in the perfect sound
Tap controls allow you to make adjustments on the fly and answer calls
Padded headband and plush earcups are ideal for all-day wear
Extended battery life keeps going for as long as you do
Customizable RGB LED showcases your personality
Categories
£250 - £499
Him
Her
Couples
The Family
Children
Electrical Appliances
Tech & Electrics