Lucky Gonks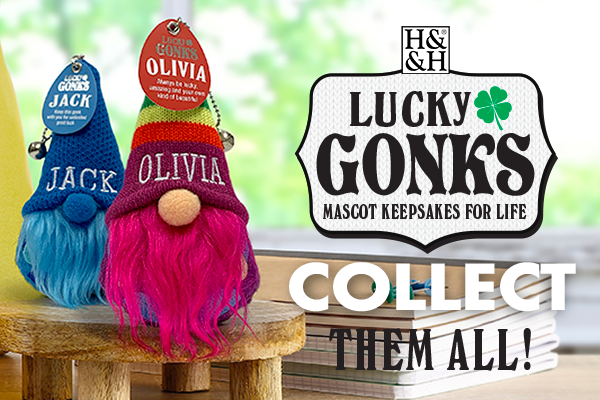 These cute pocket-sized mascot keepsakes are a follow-up to the popular Christmas Light Up Gonks. The on-trend range has 50 generic and 86 personalised titles, with each Lucky Gonk featuring
positive and inspirational messages.
Coloured metallic ball chains with bells mean the gonks can be attached to a whole selection of items such as backpacks, pencil cases & keys.
The gonks feature squishy bodies which also allows them to sit on desks, windowsills, shelves and more.
Titles & icons are embroidered onto the knitted conical-shaped hats -
and teardrop-shaped tags with metal eyelets, feature additional relevant text.
Supplied on a four-sided spinner, the Lucky Gonks are aimed at 14-20+ years and make the perfect impulse-buy gift.
Categories
£0 - £19
Him
Her
Couples
The Family
Children
Gift
Kids, Toys & Play
Everyday Products
Gift