Large full moon brooch handmade with real flowers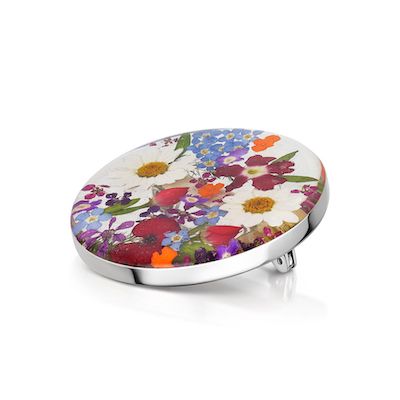 '
The Shrieking Violet Full Moon brooch handmade with real flowers.
'
This classic shape represents togetherness & positivity in this beautiful design.
'
The Full Moon measures 40x40mm & has a nickel-plated brooch pin attached at the back.
'
The delicate flowers for this brooch are expertly grown by our master gardeners & carefully picked at just the right moment & left to dry.
'
The brightly coloured flowers are then artistically placed into the resin by hand one at a time creating our beautiful design, to finish it is given a hand polished sterling silver band around the edge & made into the brooch
'
Our colourful real flower jewellery is handmade, stylish, unique and looks beautiful.
Wearing this necklace gives a direct connection with nature & our natural world.
'
The moon has long had an aura of mystery and magic about it & has the power to move the seas.
'
Flowers have been described as a gift from the gods sending out feelings of love, life & hope, sometimes we miss to see the true beauty of life.
'
The jewellery will be delivered in our stylish gift box & will come with an information booklet about shrieking violet, the jewellery & how to care for it.
'
This item has a matching pendant necklace.
'
A great gift for your mum, wife, girlfriend, sister, best friend, daughter, grandmother, granddaughter, teachers, nanny, your valentine, and more.
'
We have a large range of different types of jewellery in many different flowers.
'
Categories
£20 - £49
£50 - £99
Him
Her
Couples