Conan the Cimmerian Premium 1:6 Scale Statue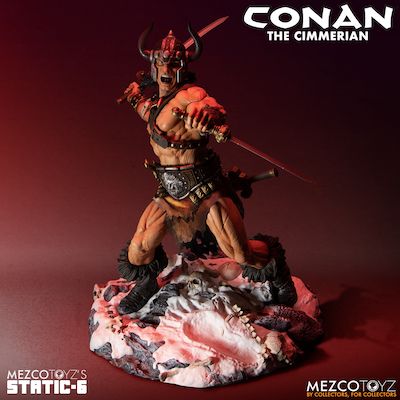 The Mezco's Static Six: Conan The Cimmerian statue is based on Robert E. Howard's legendary character. Conan stands atop a snow dusted terrain, littered with skulls at his feet. The Cimmerian is set to strike his enemy, sculpted in a powerful stance wielding weaponry of your choosing. The Mezco Static Six Conan includes two interchangeable heads a scowling stare and roaring helmeted portrait, as well as interchangeable weapons and arm gestures allowing for a multitude of display options.
Introducing Mezco's Static Six A premium 1:6 scale statue line featuring hyper-realistic detailing, mixed media components, interchangeable parts, and accessories to create multiple display options - a truly interactive high end statue line.
Categories
£250 - £499
Him
Her
Couples
The Family