Coast Mug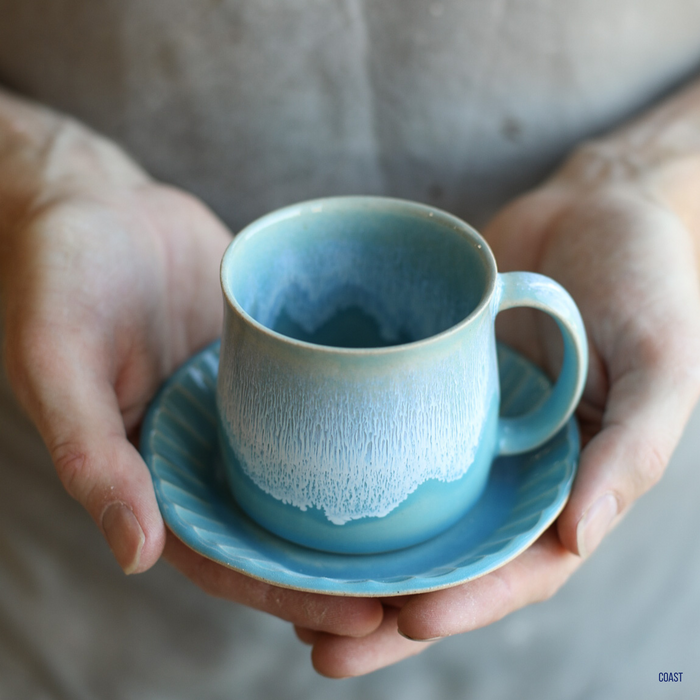 Hold a dream of the seaside in your hands with this bestselling Coast handmade pottery mug in a stunning blue glaze. Made in our Porthmadog pottery workshop, these Welsh pottery mugs are inspired by the tranquil waters of our home town.
The Coast mug is available in three sizes:
Mug:
10cm height x 8.5cm width (11cm including handle)
Holds approximately 3/4 a pint.
A large handmade coffee mug for those who fancy a big brew or hearty mug of tea.
Muglet®-
7cm height x 7.5cm width (10cm including handle)
Holds just under 1/2 a pint
A handmade mug for smaller hands or smaller thirsts - perfect for kids and adults alike.
Mugster®:
5.5cm height x 4.5cm width (6.5cm including handle)
Holds approximately 40ml
These handmade espresso cups don't just hold coffee - they'll also hold your favourite tipple nicely.
Categories
£20 - £49
Him
Her
Couples
The Family
Gift
Housewares
Tableware, Drinkware & Accessories
Coffee & Teaware
Crockery
Home Décor
Vases