Children's Books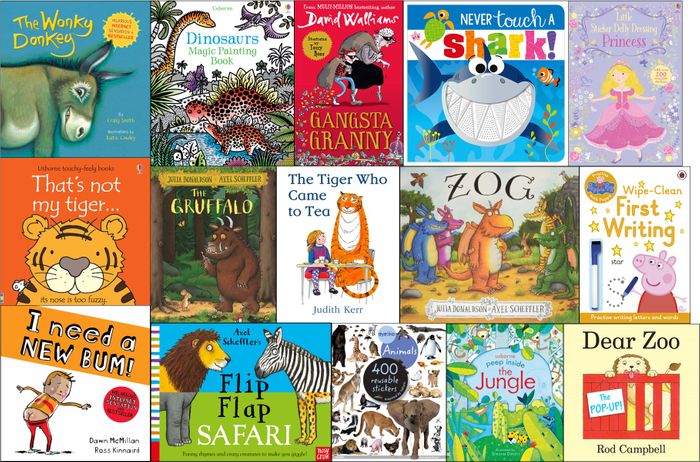 Why children's books are such an important product to sell:
Expanding brain power! Books are a great way to introduce new words and new concepts into a child's language and learning – starting with picture books for the very young – with first words, sizes, shapes, colours, numbers – working right through to complex novels for young adults – and on to rhetoric and particle physics. Starting out by making books a daily part of a child's life helps teach kids to value books, and stories.
Bedtime reading helps relax a kid. The soothing familiarity of a much-loved story, with the rhyme, rhythm and repetition in many picture books, plus the sense of security fostered by the time spent reading together, all help cultivate a love for books and a love for reading.
Indeed, reading stories with children has benefits for the grown-ups too, bonding, and helping to build relationships, snuggling up while you dive into a story together.
Stories help develop imagination – and stimulate curiosity – with the introduction of new ideas into their world – fantastic other worlds, fantastical creatures, different points in time, and invented 'make-believe' characters.
Through reading children learn what people's lives are like where they live, and in other parts of the world, over time introducing more complexities – feelings and emotions – and in doing so, building confidence and self-esteem, knowing where they fit into the 'real' world.
And what's so great about learning through stories is that the process is done in a natural fun way. There's no actual teaching involved at all; children learn from simply reading the story.
Important to the harmonious running of many families is a good solid supply of activity books – sticker books, quiz books, craft books, journals etc. These can be calming too – compared to screen-time – either at home on rainy days or to be deployed on car journeys, in airports, at restaurant tables.
Market research proves that the sale of children's books has been growing steadily in recent years – it's a worldwide phenomenon – and running in the opposite to all those who thought that physical books, as a product, are dead.
Parents and grandparents alike are really keen to counter the prevalence of mobile phones, laptops, and TV, recognising that a good book can be educational, entertaining and great value (especially when read over and over and over again!) as well as simply being great fun!
So an on-trend product, with a great past and growing future, that's important for the world, and can help drive more sales for you!
Categories
£0 - £19
£20 - £49
Children
Play & Learning
Books
Jigsaws & Puzzles