Ashleigh & Burwood - Anniversary Fragrance Lamp Gift Set & Scented Candle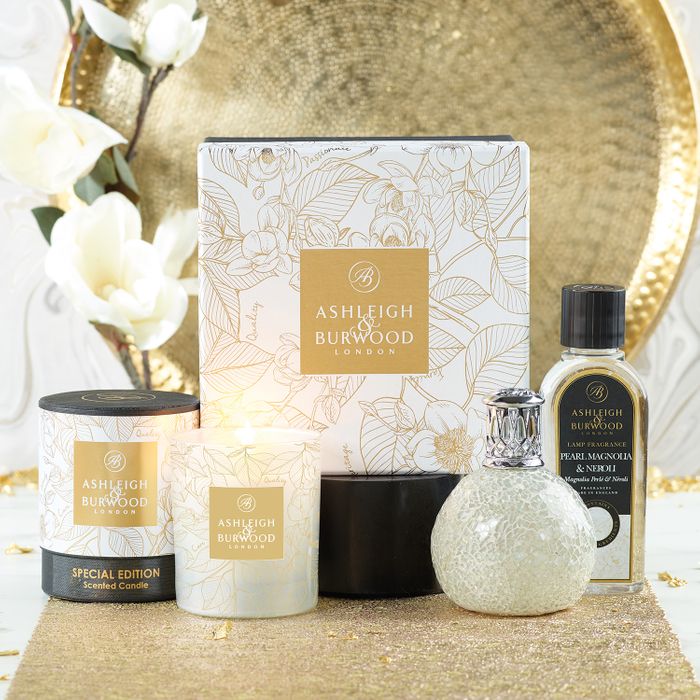 Celebrating their 30th anniversary this year, Ashleigh & Burwood have created new scent Pearl Magnolia & Neroli to mark the occasion. An elegant and nostalgic floral scent, Pearl Magnolia & Neroli evokes pearlescent petals unfurling in a fragrant harmony of white flowers.
Pearl Magnolia & Neroli features in a Fragrance Lamp Gift Set alongside The Pearl, a delicate pearlescent glass Fragrance Lamp in Ashleigh & Burwood's signature mosaic style. For a special finish, the Gift Set is presented in a handmade gift box decorated with an exclusive botanical print. A special edition Pearl Magnolia & Neroli Scented Candle is decorated with a pearlised paint and gold print overlay of the anniversary print. Celebrating the strong family spirit at the heart of Ashleigh & Burwood, the print incorporates hidden words chosen by the team to symbolise what the company means to them.
Categories
£20 - £49
Her
Home, Living & Décor
Gift
Home Fragrance & Spa Products
Candles & Accessories
Scented Candles
Fragrance & Accessories
Gift