16 Jan 2023
VaporLinQ Returns to Spring Fair in 2023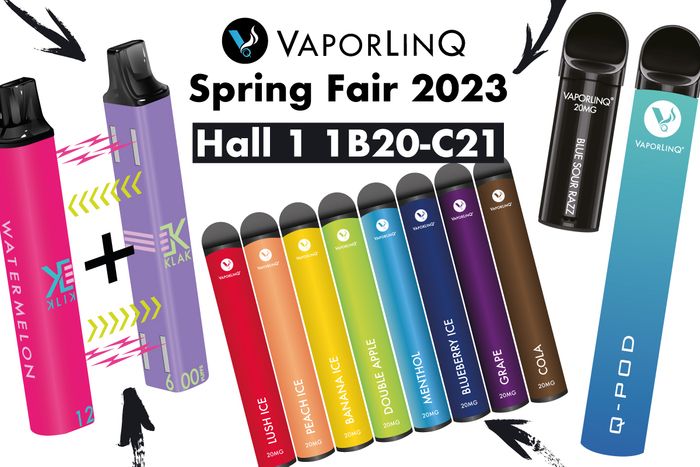 The VaporLinQ network has attended the Spring Fair for eight years, developing strong partner relationships, year after year.
VaporLinQ aims to offer a viable, better alternative to traditional smoking by introducing a complete range of high-end vaping devices and premium e-liquids. Our company's unique portfolio of exceptional, fully TPD compliant e-liquids and devices are manufactured in the UK and sold across the UK, Ireland, and mainland Europe.
VaporLinQ is a part of the Superior E-Liquids and the Apache Vape network, while also working closely with distribution partner PMS International. The list of the company's retail partners now includes Spar, Poundland, EuroGiant, Applegreen, and B&M Bargains, further highlighting the success and popularity of VaporLinQ's products in the marketplace. Such partnerships are crucial in allowing us to expand our global reach and maintain our growth trend.
This network of ours has been attending the Spring and Autumn Fairs for eight years.
What started out as a small stand has flourished into a large-scale business with internationally recognised products and partnerships.
At the Spring Fair 2023, VaporLinQ will be exhibiting two new innovative products – Klik Klaks and the Q-Pod.
Klik Klaks, Europe's only 4ml TPD compliant vape, are disposable products that allow consumers to design and create their own flavour combinations. Patented magnetic connections are used to 'click' the flavours together to make up to 55 unique combinations. VaporLinQ recently partnered with US company Element, who are now the main distributor for the product range in the UK, Ireland and mainland Europe.
Q-Pod is VaporLinQ's newest product, which provides the convenience of a disposable with less wastage. Each device is equipped with a 550mAh Li-ion rechargeable battery and a fast-charging USB-C cable, and paired with leak-proof pre-filled pods that use an innovative mesh coil to provide a smooth, rich vapour. Furthermore, each pod provides the user with up to 600 puffs of 20mg nicotine with 2% nic salts e-liquid, and they are currently available in ten flavours.
VaporLinQ will also be returning many of our most popular products including Puff Bars and our extensive range of premium e-liquids. Last year saw a massive shift in the industry through the uptake of disposable vapes, as we expanded the range to include both 20mg and 0mg nicotine options. We also increased our flavour portfolio, which now includes 17 different choices for 20mg and 13 options for 0mg. Our premium e-liquids, meanwhile, have maintained their popularity, with over 20 flavour options across three strengths (6mg, 12mg, 18mg) while also offering retailers a fantastic price point for resale.
VaporLinQ looks forward to appearing at the iconic Spring Fair once again as we look to establish a wealth of new partnerships in 2023. Come visit our stand Hall 1 1B20-C21.