ULSTER WEAVERS LAUNCES NEW HOME COMFORTS COLLECTION AT SPRING FAIR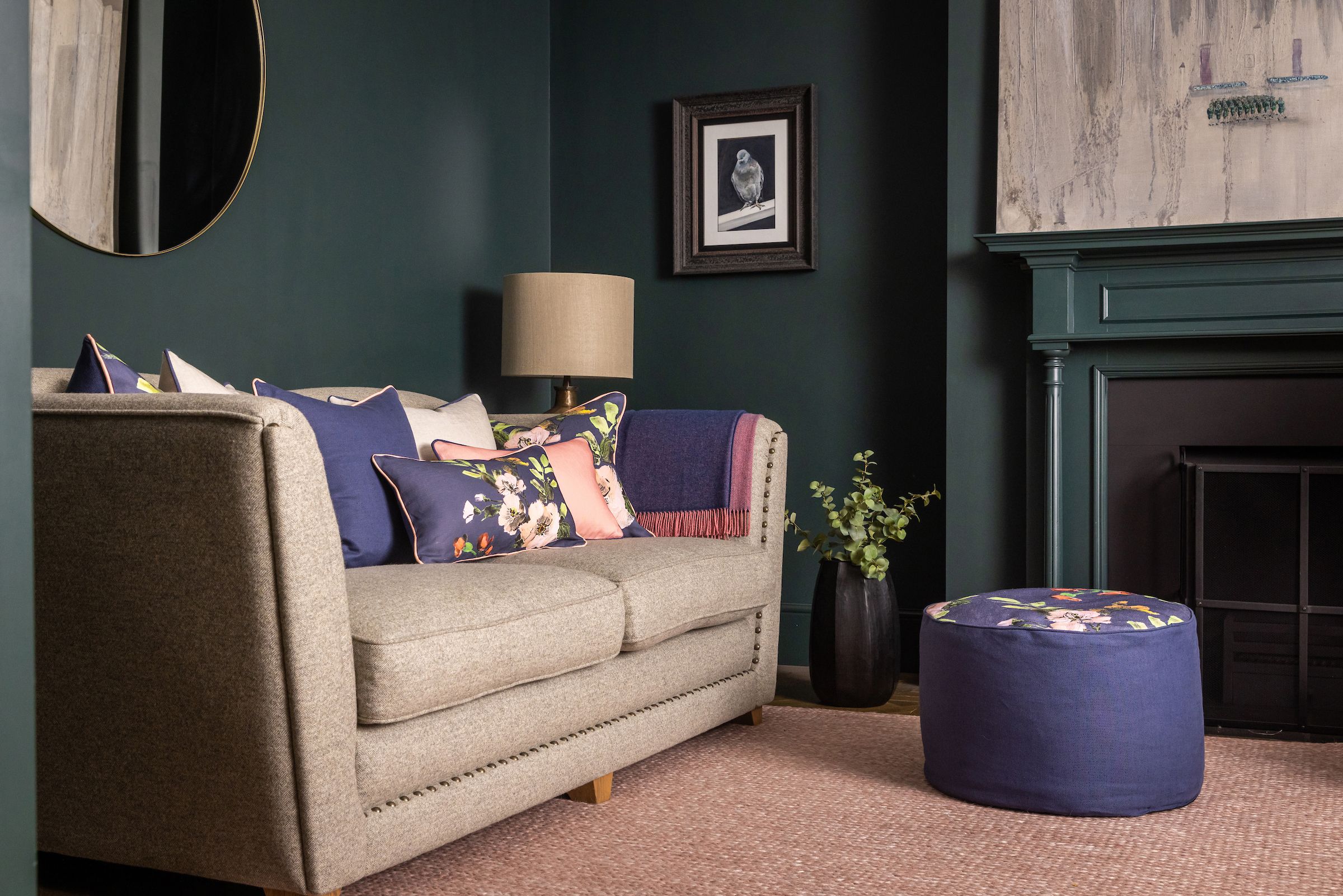 As part of its plans to grow the business sustainably, the range is designed and manufactured in Ireland using sustainably sourced materials.
The launch of the Home Comforts range comes as the company, which has customers in over 50 countries, relaunches and repositions its business as a contemporary homeware brand targeting the millennial audience.
Over the last year, the business has invested significantly in research to drive product innovation, supporting its customer base to capitalise on market trends and opportunities. To this end, its new Home Comforts range, which includes linen bean bags, pouffes, cushions and merino wool throws, blends traditional craftmanship with the latest trends, appealing to homemakers across the globe.
Made from 100% Irish linen, the company's new range of cushions include ethically sourced feather inners, with designs inspired by Northern Ireland's rich history and culture.
Part of its portable lounging collection, Ulster Weavers' linen-blend bean bags and pouffes are hardwearing and stylish.
To complement the range, an exclusive collection of luxury merino wool throws will be available in a range of reversible designs to brighten up the home.
Echoing Ulster Weavers' linen heritage, the designs of its Home Comforts collection are inspired by Northern Ireland and its rich landscapes.
They include Cardinal Marble, which takes its inspiration from Armagh, the ecclesiastical capital of Ireland; Hillsborough Floral, influenced by the stunning grounds of Northern Ireland's only royal residence, Hillsborough Castle & Gardens; and Limelight, which plays homage to the vibrancy of Belfast's rich musical history and culture and follows the city recently becoming a UNESCO City of Music in recognition of its musical heritage and the importance of music to its future.
The Home Comforts range both celebrates Ulster Weavers' linen heritage while reflecting its vision to bring inspiration and craftmanship to every home in the world.
Its Managing Director Gillian McLean says, "We are excited to bring our new home furnishing collection to the market. Its launch marks a time of change and renewal for Ulster Weaves into the future. Renowned for our rich textiles and design expertise, our Home Comforts collection responds directly to calls from consumers for locally produced products."
Annie David, Head of Innovation, says, "Our new collection includes sophisticated products to breathe new life into any room. These truly individual pieces are created with inspired design and unfailing attention to detail, reinforcing the rich textile tradition for which we have become famous."
For further information about Ulster Weavers, visit: ulsterweavers.com
About the Designs
​Taking its inspiration from Armagh, the ecclesiastical capital of Ireland, our Cardinal Marble collection, created by textile designer Helena, captures the essence of "the city of saints and scholars". Armagh marble can be seen as a magnificent component of architectural history in the city known for its grandeur and opulence. The swirling veined patterns and vibrant colours make this collection perfect for those who wish to add a pop of colour to their home.
Influenced by the stunning grounds of Northern Ireland's only royal residence, our Hillsborough Floral collection, created by our textile designer Jennie, is beautifully adorned with vibrant roses, poppies and peonies. The stylish floral design is understatedly elegant and is a subtle way to incorporate the floral trend in your home. This beautifully detailed collection embodies the luxuriant style that is synonymous with traditional English interiors and is a regal addition to your home.
Our Limelight collection, created by textile designer Mona, pays homage to the decadence and vibrancy of Belfast's rich musical history and culture. With layered, playful lines in statement tones of ochre and cerise, this eye-catching design provides a contemporary take, perfect for the bold, maximalist home. It embraces all that is weird and wonderful with this eclectic 70's print in bold statement colours, adding an uncompromisingly bold touch to enhance any home to opulent new heights.
Handcrafted in Ireland, our exclusive collection of luxury throws are integral to our Home Comforts collections. Merino wool throws are the softest, finest and most luxurious wool throws there are, carefully selected for their next-to-skin softness and durability. Exquisitely soft, generously large, our pure merino wool throws are available in a beautiful range of reversible unique designs. Our collection features four contrasting colourways, each double-sided in an array of statement colours to brighten up your home. Hand-cut fringes give the collection its final stylish touch.