01 Sep 2022
St. Eval Becomes Certified B Corp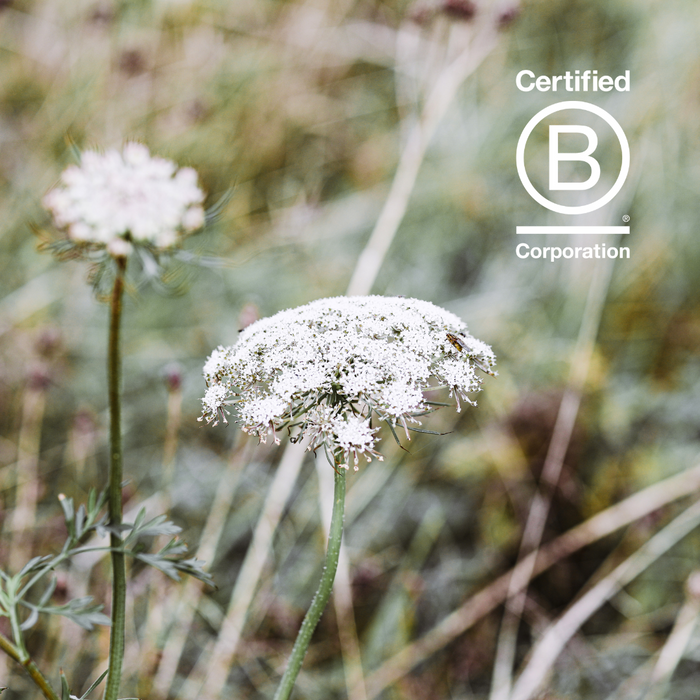 St. Eval has been certified by B Lab, the not-for-profit organisation behind the B Corp movement, as having met rigorous social and environmental standards which represent its commitment to goals outside of shareholder profit.
Creating an environment that enriches people's lives and treading softly on the earth is the St. Eval vision which began over 28 years ago. These values remain at the very heart of their inspiration for creating beautiful candles, home fragrances and natural body care.
St. Eval is now part of a community of 5,100 businesses globally who have certified as B Corps. The B Corp community in the UK, representing a broad cross section of industries and sizes, comprises over 800 companies and include well-known brands such as The Guardian, innocent, Patagonia, Finisterre and organic food pioneers Abel & Cole.
St. Eval was founded in 1993 and manufactures high quality candles based on their farm in St Eval, near Newquay. From humble beginnings, as a small family operation, St. Eval now employs over 50 people with their candles, home fragrance and natural body care products sold globally. Using centuries-old traditions, St. Eval keep the artisan craft skills of the candle-maker alive, while innovating the process to make the best use of renewable energy sources and recyclable packaging. Today, St. Eval is still very much a family owned business and has a network of nearly 2,000 retail stockists across the UK and internationally, alongside their own e-commerce too. By becoming a Certified B Corp, St. Eval holds itself accountable to a higher standard of social and environmental transparency.
St. Eval's Managing Director, Harry Young-Jamieson, believes a key element to achieving this accreditation is the people at the heart of the business. He shared:
"B Corp certification is a huge achievement for us; it represents the innovative spirit of our company and the many people, past and present, who have driven it forward while remaining true to their values and to those of St. Eval."
He continued:
"The St. Eval B Corp journey has taken place during times of extraordinary change, uncertainty and resilience. Now more than ever, the world needs companies committed to achieving sustainable and inclusive growth. Becoming a Certified B Corp company has been one of the highlights of my career."
St. Eval proudly produce their own sustainable energy via wind, solar and biomass; helping to reduce their carbon footprint and impact on the environment. In 2011, the UK's quietest Wind Turbine was erected on their farm which, alongside solar panels and a biomass boiler, helps to produce enough energy to power the entire factory. The innovative triple energy solution integrates wind, solar and biomass energy power to heat buildings and the water used on-site, in addition to air source heating in the warehouse. The triple energy solution reduces consumption as well as feeding surplus electricity back into the local grid to serve the local community. St. Eval aims to be Net Zero by 2030 and is well on track to achieve this ambitious target, with many initiatives to support this goal including expanding their solar power portfolio and eliminating plastic from all diffuser and candle products.
Achieving B Corp certification means going through a rigorous assessment looking at social and environmental standards. Reflecting on this, Harry Young-Jamieson shared:
"The road to certification was challenging; it required us to look at ourselves with a renewed sense of purpose and rigour. None of this would have been possible without the support I received from the St. Eval team and the wider B Corp community. I am immensely proud to work for a B Corp company alongside people who continue to innovate and challenge the status quo. Our success comes from finding new ways of doing things that positively impact the world we share."
The B Corp certification addresses the entirety of a business' operations and covers five key impact areas of Governance, Workers, Community, Environment and Customers. The certification process is rigorous, with applicants required to reach a benchmark score of over 80 while providing evidence of socially and environmentally responsible practices relating to energy supplies, waste and water use, worker compensation, diversity and corporate transparency. To complete the certification, the company has legally embedded their commitment to place purpose beyond profit in their company articles. St. Eval is on a mission to create a company in which people trust and believe; a business that people want to work for, buy from and collaborate with. B Corp Certification helps St. Eval communicate and verify their purpose to be a force for good in the world.
St. Eval continue to create new and exciting candles and fragrances, inspired by nature and following their core values; to protect, nurture and respect each other and the earth. As pioneers in quality, nature-inspired scents for wellbeing and safety, St. Eval lead the way in driving high standards and sustainability for a brighter more balanced world, connecting with local communities and charities to unite; sharing their vision and shining the light.
Press Contact
Sarah Hemming
Head of Marketing
marketing@st-eval.com
01841 540850