07 Jan 2022
Spinning Poodle Games to introduce four new products at Spring Fair 2022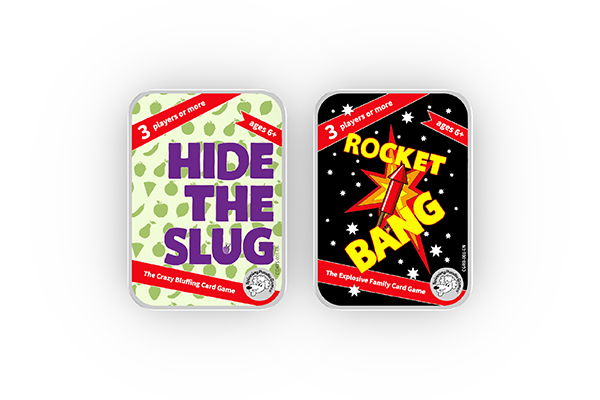 Godalming UK: Spinning Poodle Games are adding to their growing range of low-tech entertainment with four new products, to be introduced at Spring Fair 2022.
The new ranges include two new family card games:
Rocket Bang is an entertaining firework-themed card game for families and children. Players take it in turns to place the colourful firework cards in sequence, with an exciting 'bang' explosion card finishing the game. The game is simple enough for children to pick up, but has enough strategy to make it interesting for older players too.
Hide the Slug is a fun fruit-themed card game which works well with small or large groups, including those with players of varying ages. It was designed specifically as an activity that everyone could play at a family gathering. The game requires players to cheat by sneaking their slug cards amongst the fruit cards to win. It's very simple but very entertaining.
Both card games are designed and made in the UK, and each is supplied in a long-lasting colourful tin.
The ranges include two new standard playing card decks:
Family Friendly Playing Cards is a standard deck of 52 playing cards designed specifically with symbols and numbers that are more clearly differentiated from each other than a standard pack of cards.
Spinning Poodle Director Roger Coleman explains: "I have enjoyed playing card games for many years, but have often noticed that it's easy to make a mistake between the red suits and black suits. The symbols in a classic pack of cards aren't that different, and it is easy to mix them up, especially with younger or older players. I've noticed this can make them feel foolish and put them off playing. We've made a simple change that keeps the same symbols but uses solid colour for the spades and hearts and outlines for the clubs and diamonds, making it much easier to tell the difference between the four suits. We hope that these cards make it easier for younger players to start playing card games and keep older players playing for longer."
Left-Handed Playing Cards is a standard deck of 52 playing cards, but with the numbers only on the right-hand corners. This makes the cards fan naturally right to left instead of left to right - in order to delight left-handed players and frustrate right-handed players.
Spinning Poodle Director Roger Coleman explains: "My left-handed sister complains every time we play with a deck of cards with the numbers in the left-hand corner, since she can't fan them properly. She has bemoaned the lack of left-handed cards for years. Now she can annoy me with them. She will be delighted."
About Spinning Poodle Games
At Spinning Poodle Games, we are keen to get people off their screens and playing old fashioned games together. We have created a range of fun and exciting family games, loosely based on old classics but with a modern twist. It's our hope that we can get the world laughing and playing together and basically cheer everyone up a bit.
Spring Fair 2022 runs from 6-9 February 2022 at the NEC in Birmingham. Spinning Poodle Games are at stand 5M41
Contact Details
Spinning Poodle Limited
First Floor Offices,
36 Bridge Street,
Godalming,
Surrey,
GU7 1HP
Tel: 0330 222 0318
hello@spinningpoodle.com
https://www.spinningpoodlegames.com/