22 Dec 2022
Put a spring in your step with Weaver Green's new kilim rug collections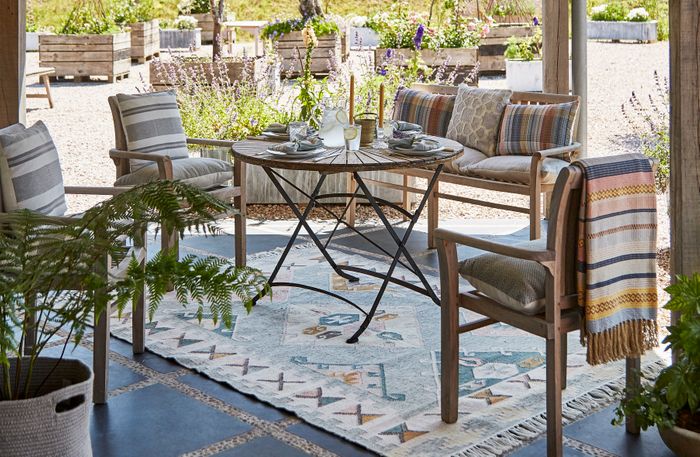 In fact, this year's Spring Fair at the NEC will see eleven fresh new designs on show, putting an eco-spin on this most traditional of rug-making traditions.
Made in a high quality kilim weave, these stylish yet hardwearing rugs work equally well indoors or outside. Most amazingly of all, the Weaver Green's kilim collection is woven from recycled plastic bottles. Soft to the touch and cosy underfoot, this hardwearing fabric has to be experienced to be believed. And it's always good to know that the beautiful addition to your home is helping to keep our oceans plastic-free.
Founder of Weaver Green, Tasha Green commented 'Kilim rugs were traditionally crafted for nomadic tents, requiring huge skill passed down through generations. We're proud to champion the skills that go into kilim weaving and help to keep this beautiful industry alive.'
Nowhere is this more apparent than the brand-new Silk Road collection. The new Anatolia Sky, Cyrus Sky and Faro Sky Rugs are woven with Weaver Green's signature recycled plastic yarn and showcase a mesmerizing sky blue in a choice of contemporary patterns and range of sizes, starting from £195.
Also new for 2023, Weaver Green's Andalucía Granada Rug (from £155) comes in six different sizes and blends the motifs of North Africa and southern Spain in soft grey, teal, coral and gold. Machine washable and resistant to stains mould and water, these rugs are beautifully tough.
Intriguingly, Kilim rugs often convey a secret message in their symbols and design, which could be anything from happiness to protection. New additions Nomad Letoon incorporates an eye-catching nomadic design of blue, pink and olive green, while Nomad Xanthos features muted tones including olive, gold, blue, terracotta and pink. Each comes in six different sizes, starting from £195.
Two brand new colourways make their debut in Weaver Green's Darjeeling rug collection. The Darjeeling Heather Rug captures the home-grown hues of Dartmoor, whilst the Darjeeling Caspian celebrates plantswoman, Beth Chatto and her 'Caspian Blue' wild indigo hybrid. The Darjeeling rug is available in eight different sizes from £155 with coordinating Darjeeling throws from £75.
In contrast, the completely new Heraldic collection showcases a bold diamond print and takes inspiration from the legend of King Arthur. Heraldic Galahad includes shades of blue and green, Heraldic Gwynevere features gold, pink and red and Heraldic Lancelot has a bold blue and red print. The Heraldic Rugs are priced from £155.
As robust as they are beautiful, Weaver Green's rugs are child and pet friendly and uninteresting to moths and mites, which is great news for allergy sufferers.
To complement the look, Weaver Green has a wide-ranging collection of cushions, throws, footstools and floor cushions.
To see the full collection visit www.weavergreen.com