28 Oct 2021
Pretty Pink Eco Jewellery brings Brazilian flair to UK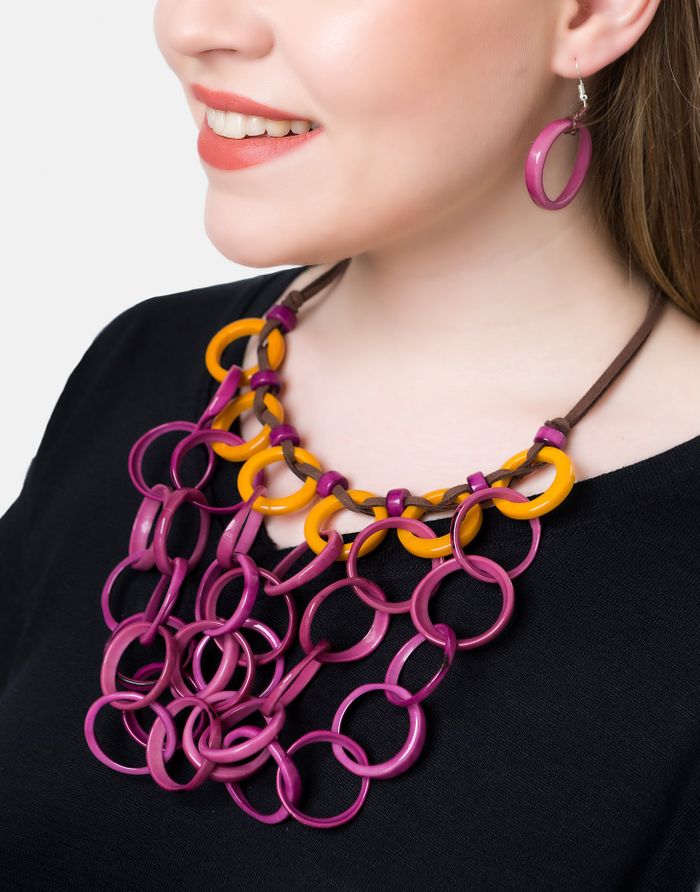 STANDARD PRESS RELEASE
CONTACT INFORMATION
121 Giles Street – Unit 9
Edinburgh
EH6 6BZ
hello@prettypinkjewellery.com
Pretty Pink Eco Jewellery brings Brazilian flair to UK
Edinburgh-based eco jewellery makers Ilana Ewing and Amália Wragg have come a long way since moving from their native Brazil in 2005.
Their eco-jewellery company, Pretty Pink has grown into something beyond the pair's expectations, with thousands of happy customers globally.
Cofounder Illana says:
"Pretty Pink has really appealed to our customers in the UK and abroad, with our range of sustainable, eco-friendly jewellery. We're grateful for the support of our customers, and we are seeing the business grow beyond what we thought was possible,"
The secret to their success lies not only in their beautiful hand-made jewellery, but in their environmental credentials.
From necklaces and earrings to brooches, bracelets and greeting cards, each piece in the Pretty Pink range begins life at small cooperatives in South America, where they are then sent to Edinburgh to be meticulously crafted into charming and stylish jewellery by Illana and Amália.
Many of the jewellery pieces in the Pretty Pink range are made from Tagua, also known as Vegetable Ivory. This is the dried seed from a large, fruited palm tree, and its harvesting keeps some 35,000 people in employment in South America. What's more, recent research from Brazil has found that the cultivation of Vegetable Ivory in the Greater Amazonia region prevents loggers from chopping down trees to plant soya for biofuels.
The Vegetable Ivory – which does not harm animals or the environment during cultivation – is then sent to Edinburgh, where, much like real ivory, it is able to be carved, sliced and drilled, and made into beautiful and unique jewellery.
In addition to Vegetable Ivory, the team at Pretty Pink also use Acai seeds in the making of their jewellery, which is sustainable, provides much-needed employment, and does not harm animals or the environment in its cultivation.
In a further boost to cultivators in the region, Illana and Amália donate 10% of their profits from Pretty Pink to their employees, even during the recent and on-going pandemic.
It is this sustainability and care for their employees and the environment that has won Illana and Amália the prestigious Prestige Award for Handmade Jewellery Specialist of the Year, for two consecutive years in a row.
However, Illana and Amália do not rest on their laurels and they hope that we can all focus more on the environment as we move into 2022. While Pretty Pink jewellery pieces certainly make for wonderful Christmas presents, the message, they believe, needs to be pushed further - into the New Year and beyond.
Amália says:
"We hope that our customers and their families can make a New Year resolution to increasingly buy only sustainable products where at all possible. There are choices we can make right now that can save the environment, and we want to continue to be part of spreading that message."
The collection
In the range of necklaces, you will find chunky designs and long, adjustable length necklaces, all beautifully polished, and made from both Acai and Tagua. Suiting many different occasions, the necklaces are bold, vibrant, and stylish.
Earrings come in chunky, flat, hoop and dangle varieties, and in a vibrant range of colours. The earrings are suitable for a variety of skin tones, and formal and informal occasions. They are made from either Acai or Vegetable Ivory, and are highly polished.
Bracelets are made from Acai and Vegetable Ivory, and come in a variety of bead sizes and in both loud and muted colours. They are adjustable, highly fashionable, and suitable for a variety of skin tones.
Flower brooches are beautiful and sustainable, all made from Tagua. In a range of colours to suit any setting, they lend a natural beauty to any piece of clothing.
The yellow Tagua jewellery is the most popular in the range. Whether necklace or earrings, these beautiful bright yellow, highly polished pieces add real vibrancy to any outfit for formal and informal occasions.
Also on offer are eco jewellery making kits, which make wonderful gifts for birthdays and Christmas, and are the perfect way to customise your individual look. They also mean you can get younger ones talking and thinking about sustainability and the environment.
Finally, you can find a range of beautiful, handmade gift cards, made from sustainable FSC Certified paper. The material is biodegradable, compostable, and vegan friendly.
The full range can be found here:
prettypinkjewellery.com
At a glance:
UK based Pretty Pink founders hail from Brazil
All jewellery is sustainable and eco-friendly
Vegetable Ivory/Tagua and Acai is used to make the jewellery
The above provide jobs, are sustainable, and prevent logging
10% is donated to native workers
Pretty Pink won the Prestige Award in 2020 and 2021
Illana and Amália urge focus on the environment in 2022
They offer a wide range of sustainable jewellery for all styles and occasions