09 Jan 2023
Popcorn Shed launches three exciting new gourmet popcorn flavours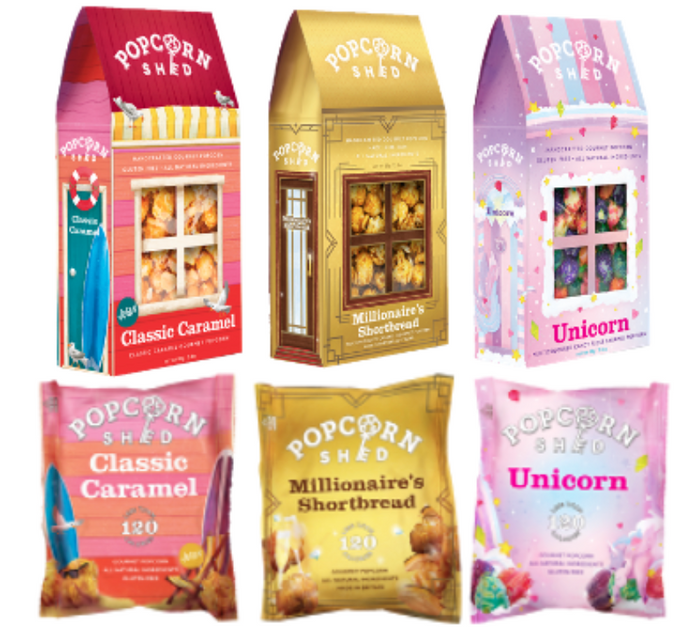 Popcorn Shed is launching 3 NEW wild and delicious flavours in January.
This adds to its already large portfolio of over 27 British handcrafted gourmet popcorn flavours.
New Flavours:
Classic Caramel - Vegan classic caramel gourmet popcorn.

Millionaire's Shortbread - Milk chocolate caramel with shortbread crumb gourmet popcorn.

Unicorn - Multicoloured Candy Floss flavoured caramel gourmet popcorn.
Popcorn Shed's unique artisanal production process.
We use the highest quality ingredients and make a fresh batch of caramel from scratch to ensure freshness and the best possible taste.

After making the caramel and air popping the corn, the popcorn is tumbled in the fresh caramel or cheese to coat the kernels evenly.

Next, the popcorn is scattered with melted chocolate, biscuit, nuts or dried fruit for a deep and rich flavour and a lovely texture.

Lastly, the popcorn is cooled quickly before bagging it airtight to ensure the freshest and crunchiest popcorn you'll ever taste.
'We take pride in creating elaborate and whimsical flavours with artful attention to detail. Join us on a taste journey and let us lead your tastebuds through this popcorn immersive experience.' Laura Jackson Director AKA Kernel-In-Chief.