01 Feb 2023
PAWPRINT FAMILY TO MAKE SPRING FAIR DEBUT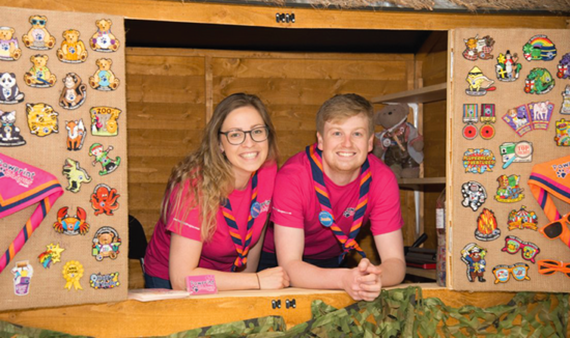 Husband and wife team Charlotte and Jamie Russell, co-founders of Pawprint Family, have put a spring in their step by taking the business to Spring Fair for the first time. The duo will be launching their innovative range of badges at the event and will be on hand – at Stand 5M35 – to inform visitors about their all-new range.
Pawprint Family, the parent company of Pawprint Badges, will be exhibiting over 300 product lines at the show. With a selection of new and existing designs, Spring Fair 2023 visitors will be able to see notable and household favourite badges from key partnerships and brand licensing projects including The Gruffalo, Zog, Smeds and Smoos, Care Bears, Smurfs, Elmer, and many more.
With almost a decade's worth of experience, Pawprint Family are leading experts in creating high quality, collectable and one of a kind embroidered and enamel pin badges. As a retailer, wholesaler and manufacturer all in one, Pawprint Family works with licensors to bring the nation's favourite brands and characters to life in a fun and collectable way.
As the collectable market continues to grow, badges and pins make for great pocket money purchases that customers can take away from their favourite attractions and locations, as a keepsake, and to remember their adventures for years to come.
What's more, 1% of every order is donated to the Pawprint Trust, a fund which pays for young people have everyday adventures. Open for 2023 applications, to date, the Pawprint Trust has awarded over £9,800 to help achieve adventure for all.
Pawprint Family's co-founder Charlotte Russell, who has 15 years' experience as a Leader – including 10 years as a Ranger Leader – is excited about attending her first Spring Fair:
"Marking our first time exhibiting at Spring Fair 2023, we cannot wait to launch and showcase our extensive new badge designs.
"Not only are our products perfect for home ed parents, volunteer leaders, teachers, carers, but we can work with retailers looking for fresh activity ideas or custom merchandise. As well as our original designs and brandlLicensing opportunities, we can also deliver bespoke badges to commemorate special occasions; so please do visit us on Stand 5M35 to find out more!"
To celebrate Pawprint Family's upcoming work with animation studio Aardman, visitors at Spring Fair can enjoy a photo opportunity with 'The Wrong Trousers', as seen in the popular Wallace and Gromit short film, at Pawprint Family's stand throughout the show.
"Looking ahead to 2023 and beyond, we can't wait to unveil even more unique badge designs, exciting new tales, trails, and activities." adds Charlotte.
Charlotte and Jamie Russell launched Pawprint Family in 2016, and it has grown to be the leading brand for engaging young people through collectible badges, trails, and tales. On a mission to enrich and educate young minds across the country, Pawprint Family aims to show that fun, adventure, and reward is accessible and affordable for all.
Looking towards the future, Pawprint Family is continuing to work together with its partners and customers to create new badges and resources for its ever-growing product line, including Wallace and Gromit, Morph, Moomins and Sesame Street.
For more information about Pawprint Family and its badges, visit – www.pawprintfamily.com