New Eco splash suits, rucksacks and lunch boxes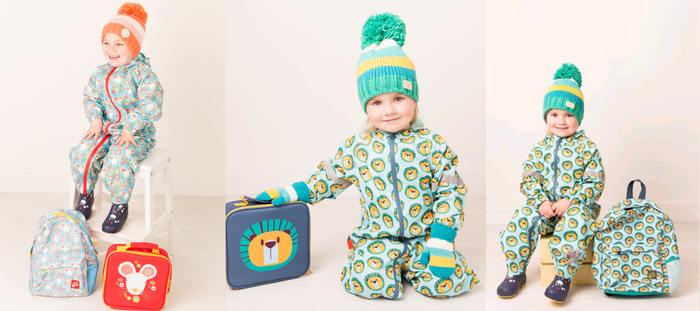 British childrenswear favourite, Blade & Rose, is excited to announce the addition of waterproof eco splash suits to their award-winning collections, so kids can have fun in the great outdoors, whatever the weather! The splash suits come in two of the brand's bestselling prints – Frankie the Lion and Maura the Mouse – coordinating perfectly with the Blade & Rose range.
Other products included in Blade & Rose's recycled polyester eco ranges include colour changing raincoats, and rucksacks with matching lunchboxes, with further products in the pipeline, as part of the brand's ongoing strategy to introduce eco-friendly materials and production practices across their ranges.
Building on Blade & Rose's ever-growing eco ranges, the splash suits are made from high-quality recycled polyester derived from 30 plastic bottles per splash suit. Recycled polyester (often called rPet) is a great planet-saving option for parents, as not only does it divert plastic from landfills, but production of recycled polyester requires far fewer resources than that of new fibers and generates fewer CO2 emissions.
Perfect for splashing and sploshing, the splash suits have a high waterproof rating of +5,000mm, enabling all day outdoor play in moderate to heavy rain. For added peace of mind, the splash suits feature heat sealed seams, a waterproof zip, elasticated wrist and ankle cuffs, and an elasticated hood with a peaked cap to protect little faces.