24 May 2022
Kite's Carbon Neutrality: One Year On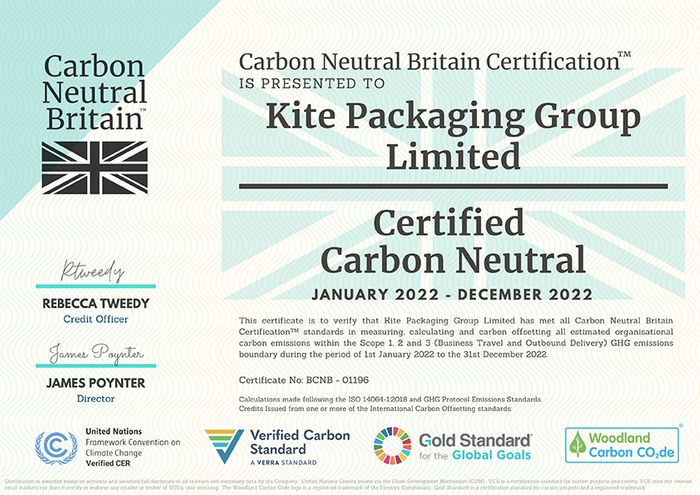 Kite Packaging Group Limited was first verified as Carbon Neutral in 2021 and April 2022 brings with it a renewed confirmation by Carbon Neutral Britain that Kite has offset carbon emissions for the current year.
Our aim, as the leading distributor of packaging in the UK, is to be environmental pioneers and inspire similarly sized businesses to take action and reduce their impact.
What are the carbon emission categories?
The emissions produced by businesses are categorised into Scope 1, Scope 2 and Scope 3.
Scope 1 refers to the direct emissions which are controlled by the organisation. For office-based businesses, these emissions are typically very small whereas manufacturing companies may emit larger quantities from the equipment and machinery used in production.
Scope 2 accounts for indirect energy emissions from electricity, heat, steam and cooling. The organisation's activities are responsible, yet the emissions occur at sources not owned or controlled by the business.
Scope 3 contains all other indirect emissions that are a consequence of business activity but are not directly owned or controlled by the business. This category can sometimes be difficult to monitor due to its breadth, which is why Kite partnered with Carbon Neutral Britain who specialise in the accurate verification of all neutrality calculations.
Why is carbon neutrality important?
A primary focus of carbon neutrality is for companies not to increase the levels of CO2 in the environment as a result of their business activities. Carbon dioxide is a harmful greenhouse gas that can cause extreme weather events, global warming and climate change if large amounts are released into our atmosphere.
So, what's new?
Kite Packaging's continual commitment to environmental causes has not relaxed after achieving carbon neutrality in 2021 for Scopes 1 and 2, far from it.
Last year, we offset all of our own fuel. This meant that our Kite trucks were carbon neutral, including Regional Distribution Centre (RDC) deliveries and transport from our National Distribution Centre (NDC) to RDCs. This year, we extended the offsetting to include the fuel of all our outbound deliveries by our third-party couriers. Consequently, the whole group operates with carbon neutral delivery – this will be shown on all customer delivery notes.
In 2021, we shared our strategy to move over to renewable energy tariffs to bring our emissions to zero in this area. It is with pride that we can share the tangible evidence of this transition: 70.64 tonnes of CO2e emissions were removed from our total this year by using renewable energy for electrical consumption. We will continue to only sign new contracts with renewable energy sources to maintain this positive action in the following years.
These achievements are additional add-ons to our validation of carbon neutrality. As an employee share-owned company, our ambitions are to go above and beyond the normal expectations of a business. This stems from a natural desire to do the right thing environmentally and care for the wellbeing of our planet.