Denby New Kiln Trade Release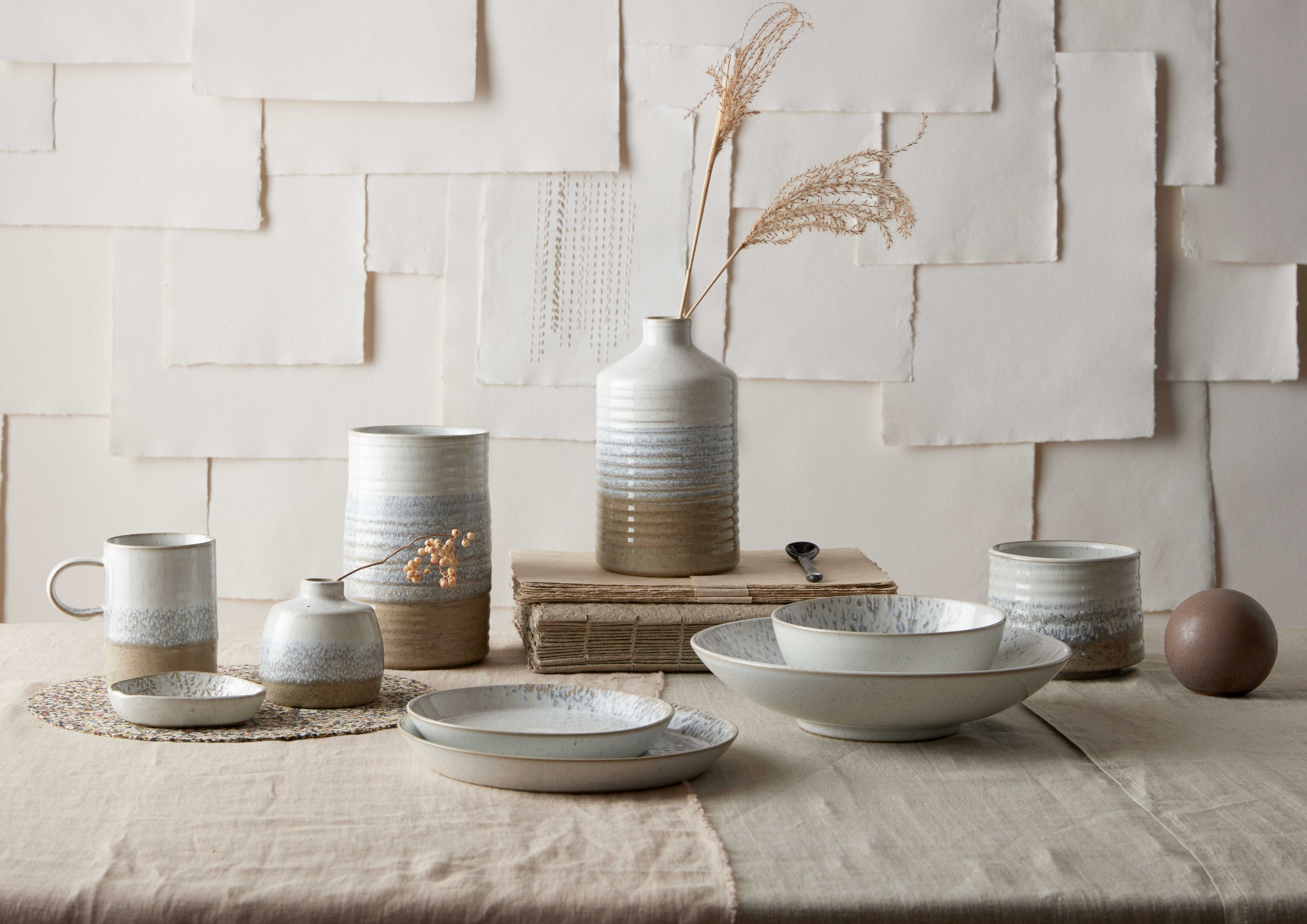 Spring '22 sees the introduction of Kiln, a collection of ceramics from the iconic potters, Denby designed to be used around the home.
Spring '22 sees the introduction of Kiln, a collection of ceramics from the iconic potters, Denby designed to used around the home. Using age old pottery methods, Kiln is a true celebration of British craftsmanship created using a soft calming palette of chalk white and hues of oatmeal and grey. The unique freckling glaze effect which is completely different on each item which makes every piece of Kiln one of a kind, yet it all combines to create a collection that is simple, easy to live with and a joy to have in your home.
Designed to be uncomplicated, the collection stimulates the senses with its textural glazes, organic shapes and simplistic beauty. The newly designed items in the collection with their uneven forms and hand-thrown features, such as the mug and a collection of bowls and platters, sit effortlessly with the functional yet stunning place setting items and showcase the new freckling glaze effect at its best.
Creating a perfect backdrop to make food look tempting, Kiln features classic place setting items for entertaining and everyday dining. There are boxed set configurations for gift-ready options, serving items and accessories such as glassware and napkins. Also included in the Kiln collection are new Home Décor pieces such as beautiful Vases, Home Fragrance Candles and Room Diffuers.
Each piece of Kiln is handcrafted by 20 pairs of hands at Denby's original 200 year old pottery by craftsmen whose skills have been handed down over generations. Produced from local Derbyshire clay, Kiln shares Denby's environmental attributes and is the conscious choice for lovers of artisan pottery who support made in England makers. Denby was the first UK pottery to be zero to landfill on process waste and holds ISO14001 which means sustainability and the care of the environment form an integrated part of the production process and management decision making.
Pattern Design Manager, Nicola Wilson says:
"Kiln has been designed to truly celebrate the craftmanship of Denby. Its calming and considered warm neutral hues are combined with hand-spray effects to create a beautiful tactile narrative full of stories. Uncomplicated, multifunctional and timeless"
Priced at £18 RRP for a Dinner Plate, Kiln has Denby's inherent strengths and is suitable for use in the dishwasher, oven, microwave and freezer and will also will be available to Hospitality customers.