05 Jan 2023
Foxwood Home Launches 3 New Collections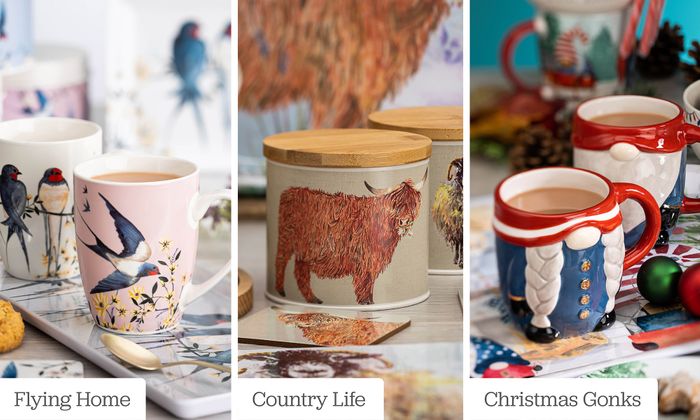 Established by David Mason Design, Foxwood Home is our latest, trusted and respected brand that offers an excellent selection of UK design-led homewares at affordable prices.
Introducing for Spring / Summer 2023, we're proud to present 3 new collections:
Flying Home
A calm and tranquil collection that brings nature to the tabletop. Distinctive swallows set within a stylish and floral design, adds a touch of beauty to the home. Items include storage, mugs and trays.
Country Life
A beautifully hand-illustrated collection. The range combines a rustic country feel with a delicate illustration style bringing the joys of the countryside to your kitchen. Items include storage, mugs and trays.
Christmas Gonk
Let the cheerful Christmas Gonks bring joy over the festive season with this great collection of giftables. Quirky, playful and colourful this range is a bold and fun addition to the Foxwood Home brand. Items include: 3D novelty mugs, mug and bowl sets, serveware and more.
Foxwood Home collections are available on a pre-order basis, to enable you to plan into your core range or create promotional activity through newness and drive additional sales revenue. We can't wait to show them to you!
For further information on the Foxwood Home brand, or to request a catalogue, please contact:
sales@davidmasondesign.co.uk or 01246 260500.