19 Dec 2022
The Crafty Kit Company X Moomin - new for 2023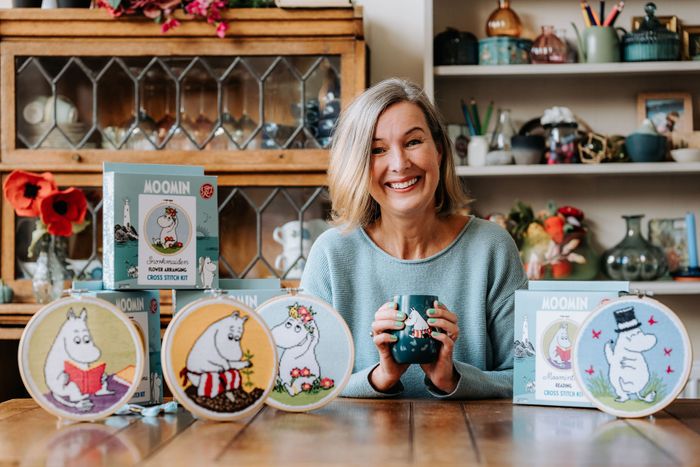 Press Release 19/12/22
The Crafty Kit Company X Moomin - new for 2023
Shared values of Love, Kindness and Respect for Nature shine through in a brand new range of craft kits.
EAST LINTON, December 2022
The Crafty Kit Company has announced the release of its most exciting product range to date - a joyful partnership with ©Moomin Characters Ltd™. Working with The Point 1888.Agency, CKC will launch a range of 12 craft kits in January 2023, based on the beloved artwork of The Moomins' creator, Tove Jannsson.
The needle felting, cross stitch and embroidery kits, all designed and made in Scotland, will contain everything the beginner needs to start crafting. They will appeal to both the craft and gift market - and of course to the growing community of Moomin fans worldwide.
Jo Lochhead, Founder and Creative Director of the Crafty Kit Company said of the collaboration:

"To be invited to play even a small part in protecting the legacy of Tove Jansson's artwork and stories is an honour and a huge privilege for us. The Moomin characters and their extended family and friends lend themselves perfectly to being recreated in wool, or depicted with needle and thread. We know that our customer, who we call Christine, loves the Moomins and everything they stand for. This collaboration will enable us to reach a new, younger audience as the appeal of the Moomins spans the generations. I can't think of another brand that I would rather represent."
The Crafty Kit Company:
twice won 'Best Sustainable Craft Company' in 2020 and 2021.
was awarded 'Gift of the Year' in 2020 and has been Highly Commended and Runner Up on several other years
has a growing online community of almost 4,000 members in the 'Craft Your Way to Happiness' Facebook group and over 15,000 Facebook followers
makes regular appearances on the major TV Shopping Craft Channels including Create & Craft and Hochanda
has previously designed kits for Cath Kidston and The Clangers brands
More information:
The Crafty Kit Company can be reached at:
www.craftykitcompany.co.uk
Tel: 01620 860907
Mob: 07748 612062 (Jo Lochhead)
Email: jo@craftykitcompany.co.uk