01 Feb 2022
BURGON & BALL EXTENDS ITS TOP-SELLING INDOOR GARDENING RANGE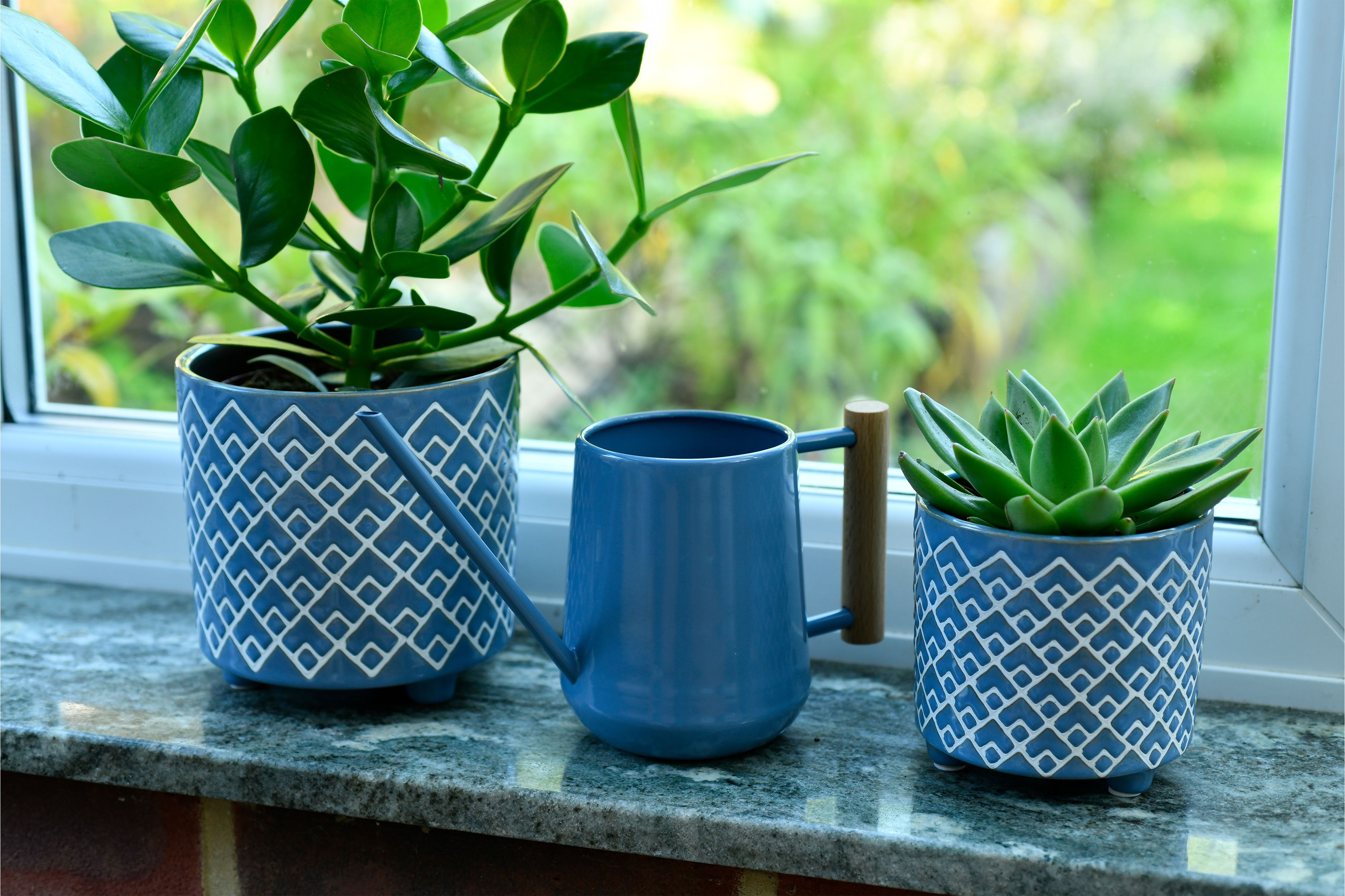 This season Burgon & Ball is adding fresh flair to its indoor gardening offering, with the launch of stylish new lines in indoor watering and indoor pots. Perfect for gifting as individual items, the latest additions also make it easy for shoppers to create their perfect multi-piece gift set. Cleverly mixing and matching colours and styles to complement existing top-selling designs, the new products refresh Burgon & Ball's successful range for the flourishing houseplant trend.
Top of the pots
Two new indoor pot designs combine to give six new choices across a range of colours, patterns and sizes. Picking up on the ongoing trends for bringing the outdoors into the home and for all things naturalistic, the Provence design features debossed impressions of grasses and flowers. A go-anywhere soft grey crackle glaze pools in the design, building depth of colour to highlight the delicate silhouettes. The Provence pot is available in two sizes (RRP £14.99/£19.99) to fit the sizes of houseplant commonly sold in garden centres, so it makes life simple for shoppers, and is a perfect add-on sale in the houseplant department.
In contrast, the Bilbao indoor pot is strikingly contemporary, picking up on the trend for bold geometrics. This unusual footed pot features a mesmerising repeat design in strong diagonals, carved out in white from the glazed background. Reflecting the hottest trends in interiors, Bilbao offers two colour options, the subtly-cool palest green of Pale Jade, and Heritage Blue, a soft mid-blue with a touch of neutral grey. The Bilbao pot's contrasts in colour and texture are especially striking in the blue option, while remaining pleasingly understated in the pale jade option. Again, both colour options are available in a choice of two sizes (RRP £9.99/£14.99).
Making a splash
Complementing the new colour options in the Bilbao pots, the Pale Jade and Heritage Blue shades are also available as two new colour choices in Burgon & Ball's top-selling indoor watering can.
Just 12cm high, holding 0.7 litre and with a fine spout for a very targeted pour, these stylish little watering cans are ideal for all houseplants, especially those very-much-in-demand mini plants and of course the adored succulents. The FSC®-certified beech wood handle adds an on-trend touch of natural material and gives the can a striking 'designer' look. With an attractive RRP of £16.99, and combining design flair with functionality, the new watering cans deserve a place in the display of every houseplant fan.
These new cans offer great appeal for the houseplant addict, also making an appealing pairing with the new pots for gifting sales. The original two colour options in this design have proved to be a sales phenomenon, and the new shades are sure to work just as hard for retailers.
Mister Right
Completing the line-up of exciting new launches this autumn is a houseplant mister, in a choice of colours and offering a quality which has been missing from the market. Perfect for gently giving tropical houseplant, orchids, terrariums and succulents the humidity they crave, this mister gives a fine uniform spray with no irritating drips or splatters. Crucially, a pump with metal moving parts gives the sturdiness and long life which houseplant fans are looking for, but which has previously been difficult to achieve at this price point (RRP £24.99).
Holding 300ml, the misters have a robust stainless steel bottle which is available in three colour options: classic stainless steel, or finished with a tough powder coating in either neutral Stone or Charcoal grey. The no-fuss design and powder coated colours add a contemporary edge to this timeless watering accessory, and a subtle Burgon & Ball logo adds a distinctive mark of reassuring quality.
In an innovative step, the powder-coated misters match the colour options in the top-selling indoor watering can in Burgon & Ball's extensive range of watering solutions, making these misters the perfect matching accessory. For retailers they offer a great upselling opportunity, and the chance to create effective cross-merchandising displays.
Together the new pot designs, indoor watering cans and houseplant mister extend and refresh Burgon & Ball's houseplant care range this autumn. Ideal for gifting sales, they bring exciting new opportunities to retailers for the season ahead.