31 Jan 2023
NEW GIFTING ADDITIONS TO THE SOPHIE CONRAN FOR BURGON & BALL RANGE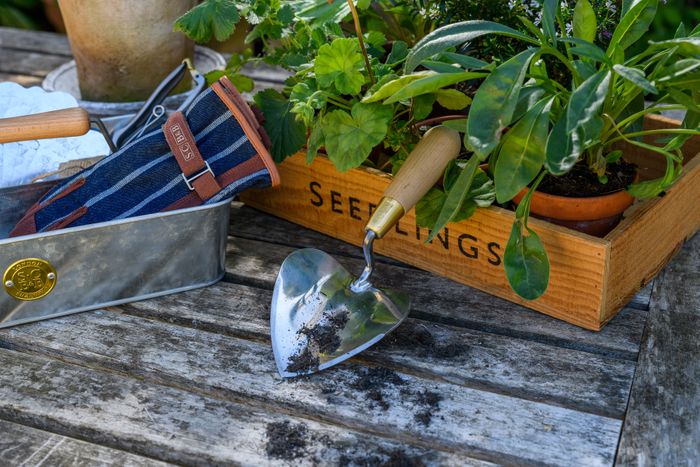 This season the much-loved Sophie Conran for Burgon & Ball collection sees new additions to add fresh appeal to this popular range. Tapping into the latest Modern Rustic trend, new gardeners' accessories in galvanized steel showcase the beauty of the material in which they're crafted. Plus, a new heart-shaped trowel in mirror-polished stainless steel combines perfect planting performance with irrisistible good looks.
Perfect for the ongoing passion for houseplants, two new indoor watering cans in galvanized steel combine visual appeal with functionality. Picking up on the Modern Rustic trend, they offer a design quality the homeowner will be proud to own and display. Lending a timeless feel, the understated yet intricate texture of the galvanized finish is subtly stylish. Available in a choice of 1 litre and 1.7 lite sizes, both these small indoor watering cans are beautifully balanced, with a slender spout for targeted pouring.
Further extending options in galvanized steel, a new seed tin is ideal for collecting, storing and organising seed packets. Again the subtle texturing of the galvanized finish fits perfectly with the Modern Rustic home. The thoughtfully designed tin offers plenty of space for seed storage. There are three compartments for seeds, with one running widthways to hold even very large seed packets. Branded calendar dividers sort seeds by month.
Designed to make planting easy, the new heart-shaped trowel is a thing of beauty. The pointed, sharpened tip slices easily through ground. The mirror-polished dish is wide to shift soil quickly and easily. The ergonomic design sees the head in line with the handle for improved digging power. The waxed FSC beechwood handle is smooth and fits snugly into the hand, and a solid brass ferrule ensures a secure connection between tool head and handle. This covetable trowel is useful for shallower digging and scooping when planting bulbs, bedding, or plug plants, and is also ideal for container gardening.
The heart-shaped trowel is presented in a stylish gift box in understated grey, a look suited to both garden and gift environments. Accents in gold foil t add a distinctive touch and highlight the quality of the range. In tune with consumer demand, the packaging is fully recyclable, designed in engineered cardboard.
Known for its appealing and very popular gift options for garden and home, the Sophie Conran range features beautifully designed hand tools in stylish gift boxes, which have earned something of a cult following among keen gardeners. The new additions bridge the divides between 'garden', 'gift' and 'home', offering exceptional opportunities to retailers in all sectors. RRPs of the new items range from £19.99 to £26.99.