Be smart and purify the air inside your home with Igenix this winter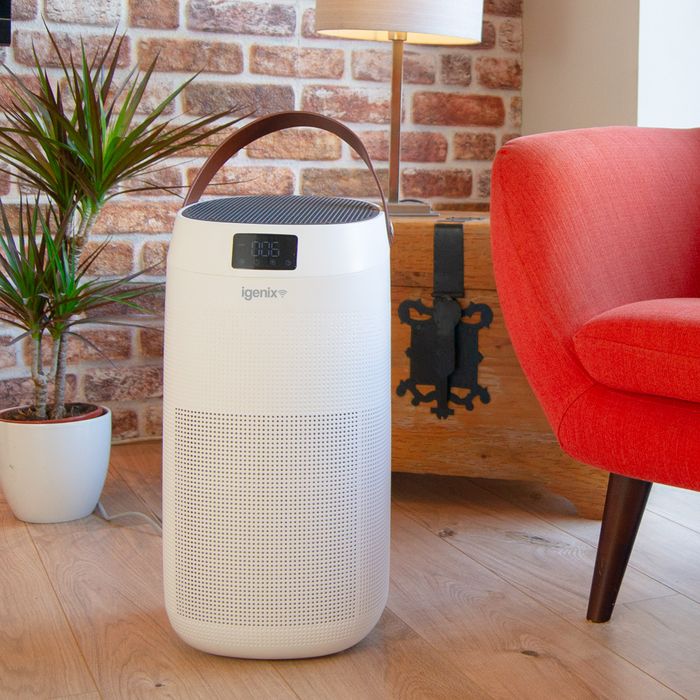 Introducing an air purifier into your home can help to alleviate any concerns over the purity of the air we breathe when indoors.
Air purifiers work by filtering the air in your home and pushing back out clean air. The IG9600WIFI Smart Air Purifier from Igenix also has an optional UV light function to help sterilise the air against germs, bacteria and viruses.
When used consistently, air purifiers can help to greatly reduce these airborne pollutants, perfect for helping to prevent transmission when someone in the home is suffering with a cold or virus.
Different levels of filtration purify different particles. The Igenix model boasts three-stage HEPA 13 filtration which removes 99.97% of viruses, polluted particles, odours, allergens and dust from the air in your home.
Benefits from this three-stage filtration begin with the pre-filter which catches the largest particles like fine hair, pet dander, dust mites and fluff. The second HEPA 13 filter in the Igenix purifier removes indoor micro-particles such as viruses, pollen and bacteria.
Third is the activated carbon filter, which absorbs formaldehyde and other harmful substances such as gases and smoke. It also helpfully diffuses strong odours, making it ideal to use all over the home from communal family areas to the kitchen to alleviate cooking smells to the bedroom overnight, especially for allergy sufferers.
With the Igenix IG9600WIFI, you can use the Igenix app to check on the air quality in the room or change the mode from wherever you are in the home, plus get real-time data including lifespan of the current filter before it needs replacing.
The smart control goes one step further on the Igenix IG9600WIFI, as by syncing with Amazon Alexa or Google Home Assistant it can even be controlled by voice commands.
Keep the air inside your home safer this winter and be smart about taking control of your health with the new Igenix air purifier, available to buy at www.igenix.co.uk, £199.99.